PHILOSOPHY
Traditional values ​​such as reliability, responsibility and speedy competent work form the basis of our work ethic.
Our employees are characterised by a shared passion for the estate agency business with an emphasis placed on customers satisfaction, at all stages of the sales process.
We aim to assist Sellers, to achieve realistic prices for their property and help Buyers find their dream real estate, at value for money prices, along the East Coast.
We offer our help with property selection and assisted viewings of your choice.
From your initial contact with Huether & Patner, through to the signing of the notarial contract of sale at the Notary, you will be in safe hands.
We are happy to recommend competent English speaking Partners, such as banks, lawyers, administrators and rental companies, to ensure our clients are provided with a complete service.
Please have a look at what our property portfolio has to offer and we can then arrange a viewing appointment for you!
We look forward to meeting you soon!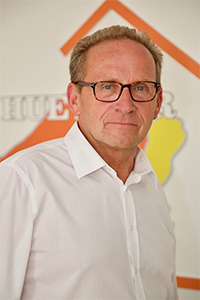 Walter Hüther
Tel.: +34-9 71 83 40 07
Nadia Hüther
Tel.: +34-9 71 83 40 07